India's Most Trustworthy And Fair National Level
Art & Craft Contest
Registered Enterprise By Government Of India, MSME
UDYAM MH-26-0033436
• All type of artworks are accepted   
• Everyone can participate
Result announced for season 6
Adult Category (16-80 yrs.)
Children's Category (07-15 yrs.)
Preschool Category (02-06 yrs.)
We are overwhelmed by your response and presenting you the 2nd edition of our e-magazine. We are happy to share it with you. 
Click the button below if above link won't work
Every participant will get ⤵
If you are not ready with your artworks yet then you can register today to avail the discount and submit your artworks before the last date of submission.
1 Artwork     Rs.300     Rs.150
2 Artworks   Rs.600     Rs.275
3 Artworks   Rs.900     Rs.390
4 Artworks   Rs.1200   Rs.500
5 Artworks   Rs.1500   Rs.600
Every participant will get
Why you shouldn't miss this opportunity ?
National level E-certificate to all participants and winners
A free copy of E-Magazine to all participants worth Rs.300
Chance to feature your "Art-blog" in our Magazine and website for FREE in front of a wide reader base.
50% discount at the national level upcoming workshop
Participants will get the certificates within 48 hrs. of submission.
Reasonable fees and maximum prizes to ALL ART FORMS
A team of professional and eminent judges in the respective fields
Total prizes worth Rs. 85000+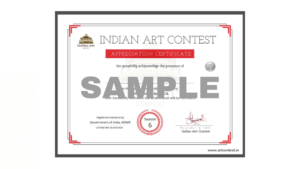 National Level E-Certificate
- Every participants will get their national level E-Certificate within 48 hours (2 days) after submission of artwork/artworks.
Free E-Magazine
- Every participants will get a free copy of E-Magazine after declaration of results. - E-Magazine consists of Every winner's artworks, Art Blogs and few surprising things.
If you have any queries email us
About us
Indian Art Contest is a forum to recognize the talent of Indian artists. We have started our journey in January 2020 by conducting online art contests on Instagram. We are happy to announce that in the year 2021, on our very first anniversary, we are extending our services with respect, accountability, and integrity towards all kinds of art forms. We are in search of self-made, professionals, and amateur artists. This forum provides an opportunity to showcase their various artworks and artforms.
We respect art more than anything and everything in the universe. We encourage amateur artists to bring out the best in them. 
We create, we learn, we celebrate, and we take the responsibility to make art forms immortal. 
Let's join our mission!