I am Ankit Jasmatiya, an artist based in Noida and passionate about pencils and mostly dry media as it gives me the freedom to work anywhere and anytime. Most of my artworks are based on portraits and my motive is to create the artistic expression of the face. I want to spread awareness towards art all over the world. To achieve this, I am uploading art tutorials on my YouTube channel where I have more than 3,28,000 subscribers, so that everyone can learn art. I usually work on graphite, charcoal and soft pastels. I worked on various methodology for achieving the portraiture like pencil measuring techniques, using light and shades, blocking method, subtraction method etc.
I am a Contemporary Artist currently based in Assam. Making Art has always been something I adored as a hobby, but it was after I had passed my 10th standard that I started to draw most of my time. I was experimenting with pencils a lot at that time, and soon it had become my favorite Art tool. I love making portraitures, and continue to specialise in that skill.
  Achievements – Indian Art Contest Season 3 winner and some other State and National Contests like '27 Art Point', CreArts, National Art Platform, Aventine(AAU), Phoenix(JEC) etc.
Featured by Metropolis Asia to exhibit in the 2018 chapter, and in their ARTYARD.
I am Vaishnavi Luniya a self learnt Mandala artist by passion and an interior designer by profession.
I am from the Dewas (Madhya Pradesh).
 My Instagram handle goes by the name "mandalabyvaishnavi".
I was good in arts since childhood and used to get every art assignment for school by my teachers. I also participated in many art and craft competitions and won them as well.
After getting into college, I left behind everything and couldn't continue drawing due to numerous assignments and projects.
One day while browsing through Pinterest, I came across a MANDALA and got fascinated by the details and intricacies of the design. At that point of time I was unaware of the fact that this art form is known as Mandala!!
From the very next day I started drawing few mandalas of my own, but again discontinued due to my college assignments.
After about three and half years, I again got a chance to do mandalas during the lockdown period and haven't stopped since then.
That day I decided to start an Instagram page of my own where I share all the artworks that I do.
I really like to experiment with different media and styles. I am not sure if I have developed a style of my own but I am trying really hard.
Mandalas are a therapy to me  and I can do them and stare at them all day long!
Apart from mandalas I am also into crafting and I really like to make handmade products. I have have an Instagram page for that as well which goes by the name "handmadebyvaishnavi".
Every participant will get
Every Participant can apply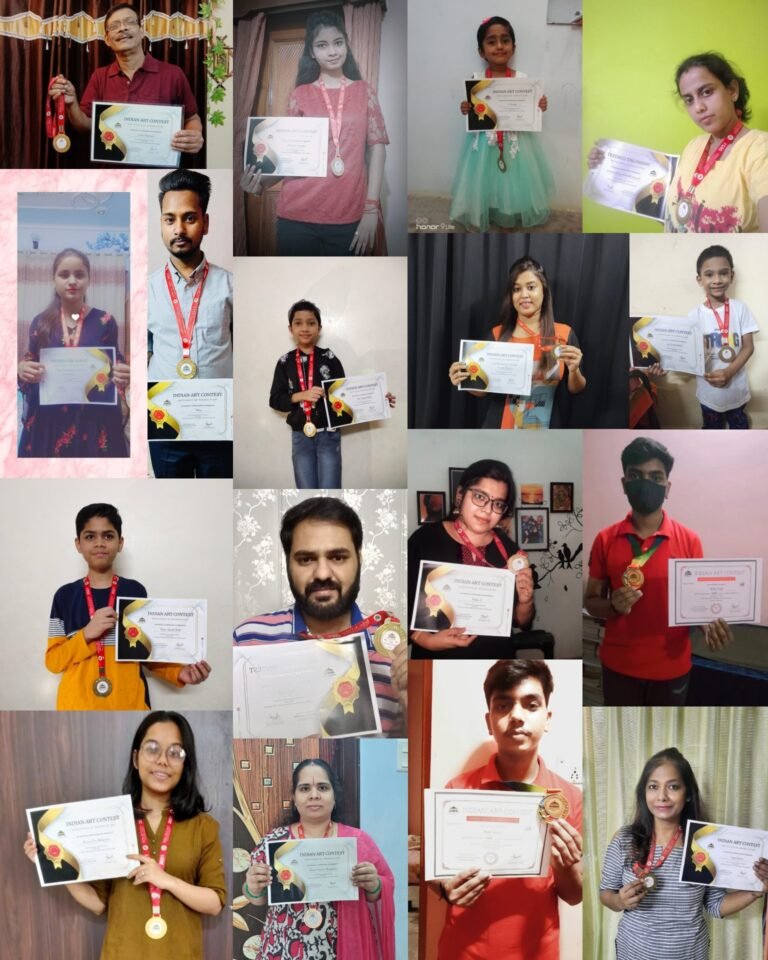 - All participants of season 5,6,7,8, and 9 can apply for participation medal and hardcopy of certificate.
Registrations are open for Season 10
1 Artwork     Rs.300     Rs.150
2 Artworks   Rs.600     Rs.275
3 Artworks   Rs.900     Rs.390
4 Artworks   Rs.1200   Rs.500
5 Artworks   Rs.1500   Rs.600